After several years and many unsuccessful attempts of trying and failing to lose weight on fad diets, diet pills, and unsustainable programs, John and Sheila Chambers finally found something that worked for them - Nutrisystem. Together, John and Sheila Chambers have lost a total of 85 pounds on Nutrisystem.
Growing up playing football and lacrosse, John had always had an athletic build. As many former athletes can attest to, staying fit after school-age years is much more difficult without the structure of organized sports. Slowly but surely, John gained weight to the point where daily activities like walking up stairs had become laborious. John hit a turning point in his life when he was diagnosed with obesity and prediabetes. On top of this, John had high blood pressure and high cholesterol, as well as a heart condition and kidney function issues. Sheila had her share of health problems as well, being pre-diabetic and on the verge of having cholesterol issues.
For both John and Sheila, their top priority for losing weight was to improve their overall health, and this time, they wanted to find something that would be sustainable for them long term. Before discovering Nutrisystem, they both attest to feeling sluggish, generally lacking energy throughout their day, and not enjoying the things they used to, opting to sit on the couch and watch TV instead.
John said his health issues caused a lot of stress in his life, and his greatest fear was leaving Sheila too soon, or suffering a heart attack or stroke and becoming a burden on her. This was the biggest motivator in getting Sheila and John off of the yo-yo-diets and ineffective miracle products, and taking control of their health with Nutrisystem.
Today, John and Sheila are still enjoying being on Nutrisystem, and have maintained their weight loss. As they say, "it's not a diet, it's a lifestyle."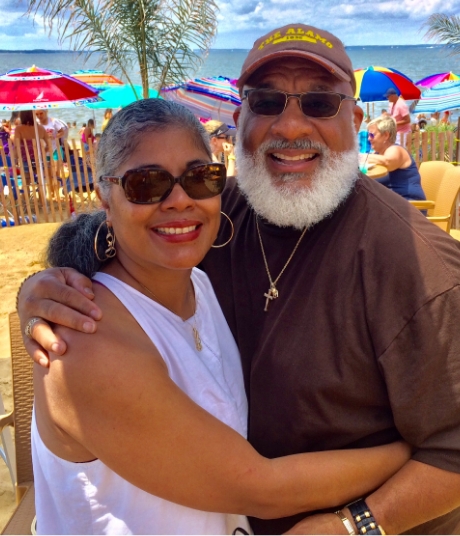 Previous weight loss tactics
John had previously tried weight loss systems that involved a lot of counting, whether it was calories, points, or something else. John found these programs to be too confusing, and difficult to keep up with.
Sheila said exercising required too much discipline, and she's tried fad diets including the vinegar diet, the chicken soup diet, grapefruit diet, and both of them even tried diet pills. "It just wasn't sustainable and who wants to live like that?"
John said on diet pills, he lost weight, but noticed it affected his demeanor. He said the pills he was taking were eventually taken off the market and he ballooned right back up after stopping the diet pill regimen.
Initial impressions of Nutrisystem
John discovered Nutrisystem from a TV commercial that talked about the foods available on the Nutrisystem plan. He was shocked to see traditionally "bad-for-you" foods on it like pizza, ice cream, and burgers on the menu. John was skeptical about being able to eat those foods and still lose weight, but he said, what's there to lose?
Sheila researched Nutrisystem further and found that Nutrisystem's non-restrictive approach to dieting matched up with her philosophy on food - eat what you want, but just not so much of it. She said Nutrisystem's pre-portioned meals made it easy to stay on track. On top of that, the meals are balanced, providing an appropriate amount of protein, fat and carbs, and micronutrients with fruit and vegetables. The Chambers' also found it was economical, saying they spend the same amount of money on Nutrisystem meals as they would regular groceries, but they don't have to go to the store and spend time cooking.
Thoughts on Nutrisystem's food
"There was just so much on it that I felt would satisfy me. I didn't want to have something where I would feel hungry all the time. And with Nutrisystem, I was able to eat and I was able to eat good things that I really like." - John
"You're not missing anything by eating Nutrisystem. You're still enjoying your food and enjoying your life much more because now you're enjoying the food, but you're healthy and you're losing weight." - Sheila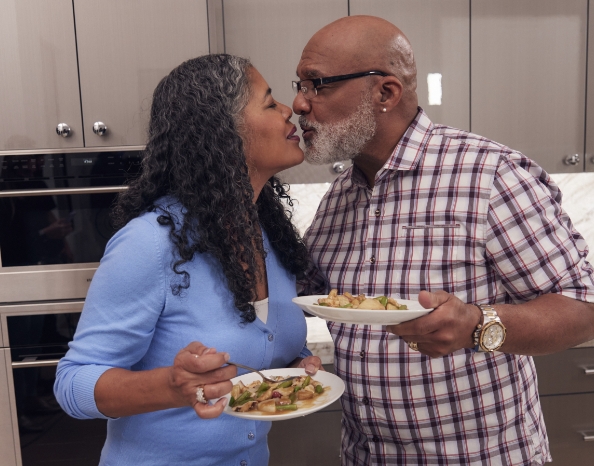 John and Sheila say there are so many things available on the Nutrisystem menu that are just as good as foods that you can find in a restaurant. They love the meals so much that even when they do have a flex meal in their schedule, they sometimes opt to have a Nutrisystem meal instead. However, they say that dining out for their flex meals has been much easier with Nutrisystem - they teach you how to make smarter choices with the foods and portion sizes, so you can still enjoy a meal out without worrying about throwing off your weight loss progress.
John and Sheila's Favorite
Nutrisystem Foods
Biscotti bites
Blueberry muffins
Chicken parmesan
Chocolate cupcake
Weight loss with a partner
When John and Sheila would attempt to lose weight previously, one of them would come home with an indulgent food, throwing off the others' diet. So for this couple, it made sense for them to be on the Nutrisystem program together. Instead of being bad influences on each other, they now celebrate their weight loss achievements, making it a friendly competition, and playfully stealing each others' snacks. They both love having a weight loss accountability partner and cheering each other on.
"I'm just very proud of her for losing that weight. But I'm very mindful of the fact that I believe she did it for me. She saw that I was the person who was really in need. I was the person who was really struggling. And she came along on this ride with me, knowing that if she was with me, I could do anything."
Weight loss results with Nutrisystem
John and Sheila say they have so much energy now. Their bodies aren't aching and they're feeling and looking better. John says he's dropped from a size 44 waist to a 36.
John and Sheila have maintained their respective 55 and 30 pound weight losses for over a year and a half with ease. Most importantly, John's blood pressure and cholesterol are much better, and will no longer need to be on medication.
A Typical Day for John & Sheila
The Chambers say that being on Nutrisystem is no different than a normal life. There are no restrictions, you don't feel hungry, and you don't have to work out a lot to see the same weight loss results that they have. This is what a day in their life looks like:
1. Weigh in—John and Sheila love starting their day by seeing how much weight they have lost, and getting to celebrate with each other.
2. Get dressed—Sheila loves fashion and is so happy to be looking and feeling better in her clothes.
3. Eat breakfast—Biscotti bites, muffins and bars are some of their favorite quick breakfasts before starting their day.
4. Telework or an activity on the weekends—John and Sheila are currently working from home. Like many of us with desk jobs, this can be fairly sedentary. On weekends, they enjoy going to the park, fishing, and going crabbing.
5. Lunch—John and Sheila love the soups and sandwiches, even a burger for lunch.
6. Snack—One of their favorite snacks is the chocolate cupcake, and Sheila really enjoys all of the bars.
7. Long walk with the dog—Instead of feeling like a chore, John and Sheila enjoy taking longer walks with their dog. They like to do about 15 or 30 minutes of exercise a day, which is often covered by walking their dog.
8. Dinner—They love Nutrisystem's pasta dishes, especially the chicken parmesan.
John & Sheila's Tips for Weight Loss
John and Sheila say Nutrisystem is an easy plan that is simple to follow. "If you're sick and tired of being sick and tired, and you're looking for something that really works, try Nutrisystem."
Try Nutrisystem
Set your goals
Eat the food and follow the program
Celebrate each other's successes
Stick with it
Enjoy your new healthy body
Are you ready to start your own weight loss
success story with Nutrisystem?