Mike E. lost
55 lbs.*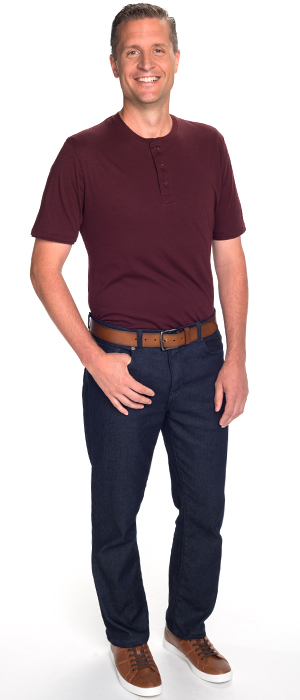 *Real Success story. Weight lost on prior
program. Expect to lose 1-2 lbs. per week.
"Unbeknownst to me, my life was about to change."
When someone doesn't see you very often, they notice changes you might have missed seeing yourself in the mirror each day. This statement held true for Mike's son who had only seen his father three times in two years while working as a humanitarian service worker overseas. When Mike's son video chatted him for the first time in months, the change he saw in Mike wasn't great: He said Dad had become "fluffy".
Mike knew he'd gained weight over the previous decade, but hadn't realized how much his appearance changed. The Utah dad was disappointed, and his wife could see it written all over his face. So, she surprised him with a late holiday present: Nutrisystem.
Initially disappointed that the gift wasn't basketball tickets, Mike knew he had been given a much more valuable opportunity. He took the steps to choosing a healthy lifestyle with the help of Nutrisystem.
"Unbeknownst to me, my life was about to change. I followed the plan exactly as it was suggested and didn't waiver," he says. "Not only did the weight come off, but the confidence in who I was and what I was becoming changed also."
"I couldn't stand to look at junk food anymore."
"Before the program I would never eat veggies—never," he says. But while adding in vegetables via the Nutrisystem guidelines, he actually began to crave healthy greens. "When I ate it, I felt so good. Healthy foods gave me energy, and I couldn't stand to look at junk food anymore."
That energy helped Mike change not just his weight, but his health and his outlook on life. He ran a half-marathon and is training to do more. And choosing a healthy lifestyle has helped in every aspect of daily living: "I'm a better husband, a better father, a better worker. I'm engaged with my family and with others."
But losing the weight feels pretty good, too. After dropping 55 lbs. and choosing a healthy lifestyle, Mike saw the same sales team he'd seen at the conference right after starting Nutrisystem. But they didn"t recognize Mike—with his svelte frame and new wardrobe, they walked right by!
And one more person was surprised by his new look: Mike's son, back from working overseas. "Fluffy" no more, Mike's son gave him a big hug and whispered a new description in his ear. "He said, 'You are so thin. You look great, Dad.'"
Hometown
Herriman, Utah
Weight Loss Motivation
To be a better role model.
Nutrisystem® Favorites
Pancakes
and
Red Velvet Whoopie Pie
Weight Loss Advice
"Just follow the program: You WILL lose the weight."